Favorable environment and climate allow us to perform three to five honey extraction per year.
Depending on the season and the various blooms, it is possible to obtain monofloral honeys (which mainly come from the nectar of a single species) such as those of asphodel, heather, orange blossom, thistle and eucalyptus, or multifloral honeys, commonly called "millefiori" , in which the prevalent presence of a single nectar is not detectable.
Honey is available in 500 gram and one kilogram glass jars. For professional customers, such as pastry shops, 25 kg cans are available on request.
Our hives are managed in a traditional way and the breeding is organic.
Asphodel Honey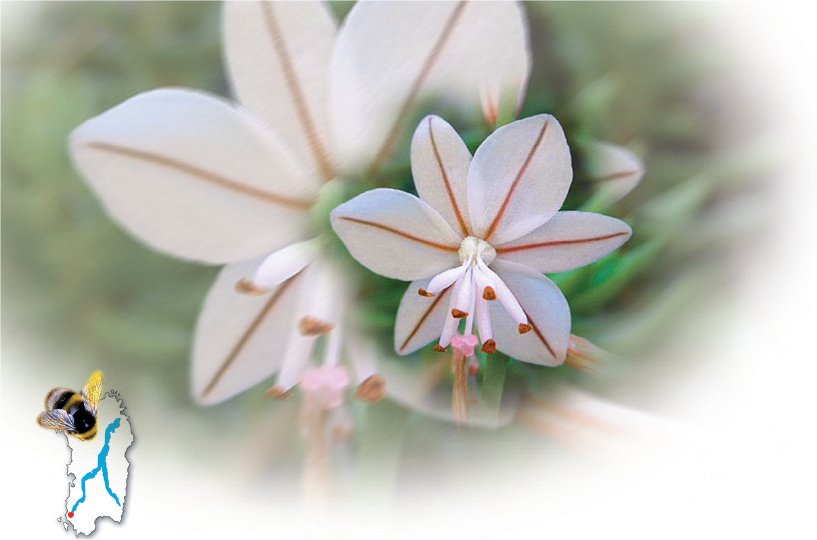 Asphodel (Asphodelus microcarpus of the Liliaceae family) is a Mediterranean plant, widespread especially in Sardinia, where the most abundant productions of this honey come from. The plant blooms between the end of January and May, but honey is typically produced in March-April. The flowers of this shrub are gathered in clusters and have a pale pink color with dark streaks. Asphodel honey is one of the typical kind of honey of Sardinia, with a transparent, almost colorless, very light color.
The sweet taste and the perfume are very delicate and to appreciate it, it must be tasted without combining other flavors that would overwhelm it. The aroma is not very persistent and slightly acidic and the crystallization is very fine. Asphodel honey has a light golden color when it is liquid (while ivory-white when it is solid), it has a delicate flavor with a slightly acidic aftertaste, excellent for sweetening the fruit salad of bananas, strawberries and orange juice.
Properties: restorative, antibacterial, healing.
Indications; psycho-physical stress, wounds and infections.
Wild Thistle Honey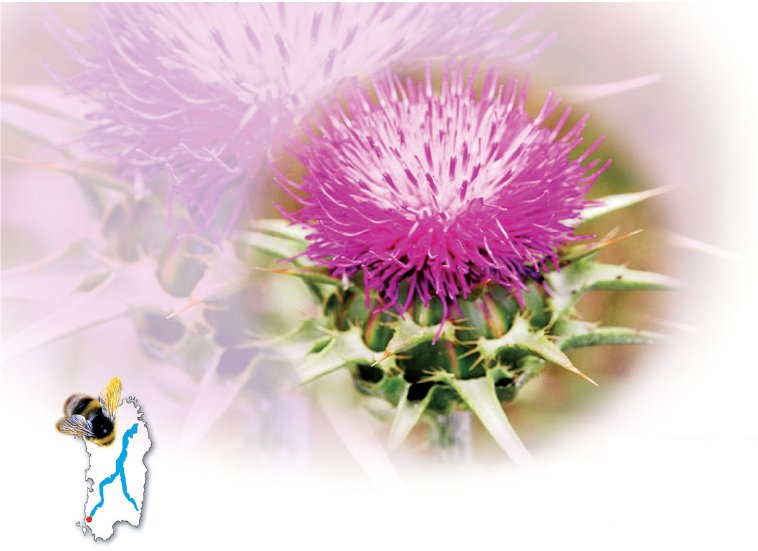 The thistle (Cynara cardunculus L.) is a plant belonging to the Asteraceae family. It is characterized by leaves, stems and thorny wraps. It typically spreads in uncultivated and arid areas, and is widespread in the Mediterranean environment of Sardinia, which is its main producer, together with Sicily. The thistle blooms in May-July
Amber in color, with orange hues and often green fluorescence, it spontaneously crystallizes a few months after the harvest, with the color turning towards beige, with yellow or orange hues. The smell and aroma are of medium intensity, quite persistent in the mouth. Pronounced sweet flavor but with a bitter aftertaste, it is extraordinary spread on bread or rusks, excellent on fresh ricotta.
Properties: digestive, stimulates and detoxifies the liver, cardio-stimulator, vasoconstrictor.
Indications; liver disease, slow digestion, blood circulation problems.
Eucalyptus Honey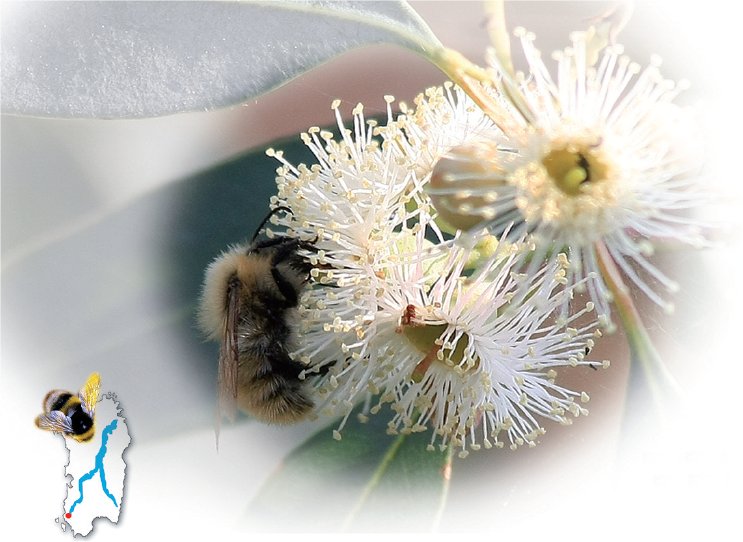 Eucalyptus (Eucalyptus Camaldulensis, Eucalyptus Globulus, ) is an evergreen plant, originally from Australia, which arrived in Italy in the late 1700s. Today it is considered a naturalized plant. The flowering period is in July-August. It is another of the honeys that in Sardinia gives rise to abundant productions. It is also produced in the Tuscan Maremma, in Lazio and in Calabria.

Like thistle honey, it typically has an amber color, when liquid, and tending to beige, when it crystallizes, a condition that spontaneously reaches quickly enough giving rise to a compact mass, with fine or medium crystals. On average intense with smell and taste.
Sweet, pronounced, slightly balsamic, persistent and pleasant taste.
It pairs very well, by affinity, with aged cheeses, such as Parmigiano Reggiano or Pecorino. Excellent for sweetening coffee, milk or cappuccino.
Properties: balsamic, antiseptic of the respiratory tract, drug repellent.
Indications; hoarseness, cough, phlegm, cold.
Orange blossom honey (zagara)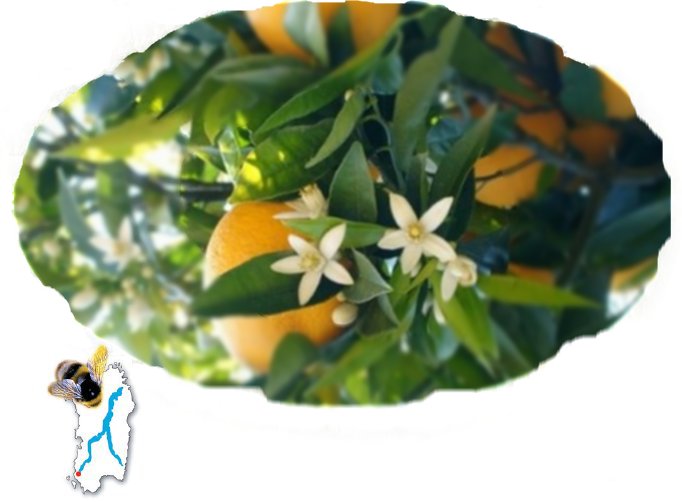 Tasty and fragrant honey, to which citrus fruits and oranges in particular give very characteristic and appreciated hints.
Particularly suitable with bread and toasted slices.
Property: calming.
Indications; insomnia.
Corbezzolo Honey
Very rare in nature (produced in the cold winter months, with understandable difficulties for summer insects such as bees), strawberry tree honey is perhaps the most famous among Sardinian honeys.
Already from the times of Cicero and Virgil there are quotations of this honey with a bitter taste that surprised the palates of those who consumed it. The arbutus plant is a shrub that can sometimes be quite large. Widespread in the Mediterranean scrub and in Sardinia, where it is present in almost all the mountain areas, giving very inviting red berry fruits and a slightly acrid taste that tends to soften when the berry is ripe.
Its fruits produce jams with a really particular taste.
| | |
| --- | --- |
| Product Name | Corbezzolo Honey (Arbutus Unedo) |
| Production Area | 200-800 m (Hills) |
| Harvest Period | November, December |
| Harvest Method | By hand with the help of different type of branch and tree shaking |
| Extraction Temperature | < 30° C |
| Storage Condition | Stainless steel tanks |
| Typical Colour | Strawberry tree honey has a very intense amber color, while it changes in hazelnut more or less clear when it crystallizes (which happens rather quickly over time), turning into a very fine and soft paste. |
| Smell and taste | The aroma of arbutus honey is very particular and difficult to describe; may recall ground coffee, or hints of vaguely pungent ivy leaves. When tasted it is striking for the intensity of taste and bitter aroma. Sugars are strongly covered by its unique taste and take second place. Arbutus honey has an olfactory-gustatory composition not comparable to any other type of honey and those who try it once will remember it forever. All you have to do is taste it, if you have never had the chance. Slightly bitter. |
| To be served with | Courted by the best chefs, in addition to top-level complex processing, it is perfect as an accompaniment to piquant cheese and pecorino di fossa, on seasoned lard, with ricotta, on ice cream, on a white chocolate mousse, ….. |
Mediterranean Bush Honey
Our multifloral honey is not a mixture of honeys of different nectars collected in several seasons and combined in a single product. Actually, it is the result of a collection of a limited period of time, in seasons in which there is no clear prevalence of one nectar on the other. According to the vintages, the honey will therefore be different and will combine the organoleptic characteristics of all the other honeys, with hints of prickly pear, strawberry tree and thistle.
It is therefore a honey characterized by the scents of the typical Mediterranean scrub, which covers our territory.
Excellent as a sweetener and for the preparation of desserts. Particularly suitable with bread and butter.
Properties: rtonic, intestinal regulator.
Indications; fatigue, stress.